I've decided to join in with a group and do a ride of part of the Great Alleghany Passage route next week. It's a four-day ride that starts out in Ohiopyle PA (near where WV meets MD at the southern side of PA) and goes out for two days, towards Pittsburgh, then turns around and comes back. We'll get as far as Dravo's Landing Campground, near the little towns of Buena Vista and Elizabeth.

The riding is light. Only 30 miles in a day on paths that are roughly the same as the Erie Canalway that I'm used to and have done 70 miles in a full day. It should be refreshing and leave plenty of time to explore towns and nearby sights before hitting the campground and settling in for the night.
The group of people I will be joining is an informal group formed on the internet known as Bikepacking US. There is no dues, no formal membership, just a bunch of people who enjoy cycling and camping. The group is in it's infancy, and has only done a couple rides in the past, all on the GAP/C&O corridor.
The Great Alleghany Passage is a trail that goes from Pittsburgh to the Maryland border where it meets the C&O Canal Towpath which ends in Washington DC. Since most of it follows old railroad lines and a canal in the C&O section, the grade is fairly flat and avoids most of the mountains in the area. Several tunnels are kept operating as part of the trail.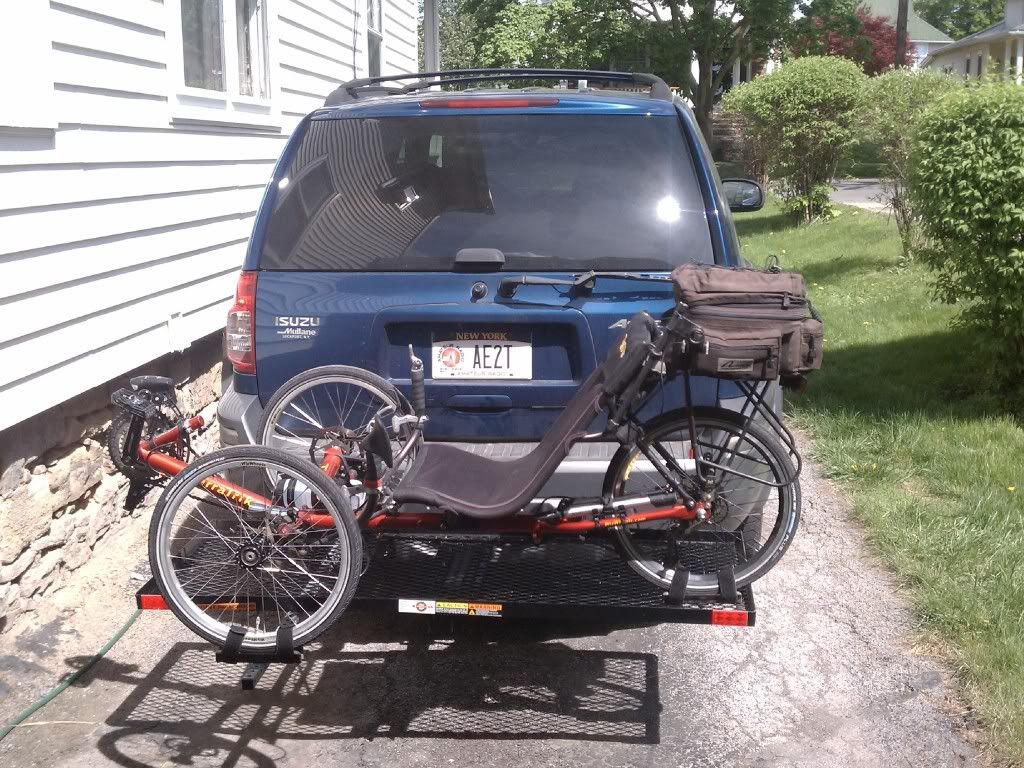 I've been getting ready for the trip for the past week and made a few changes to my bike and gear. The biggest one has been the new transport arrangements for the trike. I picked up a cargo platform carrier that goes on the hitch on my truck. It would hold up to 500 pounds according to the packaging, but will loaf along with only the trike. Since the trike is wider than the platform, I could only rest two wheels, one front and the rear, on the platform. I added a bar under the platform to support the third wheel and hold it securely. I used pieces from the old bicycle hitch rack and the piece of perforated square tubing that I used with the old carrying system.
It worked out well and should carry the trike like it's not even there. I could put some amount of baggage on the platform around the empty parts of the platform, but should not need to do so with everything else inside the truck. I should have room for the trailer and panniers in the back without folding down the seats, but that's an option as well.
Other improvements have been made. I straightened the derailleur hanger and have it shifting smoothly again. A new, stronger rear wheel has been installed and should stand up better to the weight when loaded. It's a Velocity Aeroheat wheel, built by Utah Trikes with a Shimano hub and it's really nice. It just felt strong as soon as I picked it up; good tension on the spokes and a nicely formed and machined rim that is much better than the original.
A few other bits of bling and minor parts also have been added. The trailer wheels have had their tubes upgraded to tubes with presta valves so that I can use one pump and not need to take the head apart if I need to inflate them. Spacers were added to the rims to fit, so if I need to put a schrader tube in, I still can. They are 16 inch wheels, and while that's a common size on kids bikes and can be found almost anywhere, the presta valve version is not what you'll find in a LBS. I also added a new frame pump, a Topeak Road Morph, which is a high-pressure pump that looks like one of those little compact pumps you can carry in a jersey pocket, yet has most of the features of a floor pump. It even has a clever little pressure gauge built in.
A few other bits and pieces of minor stature also have been added, much like the start of any new bike season. I just got in a package with some camping stuff I ordered. Main item was a new sleeping bag. It packs almost as small as the one I have now, but it a rectangular bag and in a long/large size. The one I used the past two years, while it is a really nice bag, was not long enough for me and I just don't like the Mummy style. They are great if you sleep on your back, but I don't, so the shoulder area is just not roomy enough. Summer camping is usually warm enough that it doesn't matter and I often slept with the zipper halfway down. On hot nights, I just lay on top anyway, so it's just padding.
I've made a few food shopping expeditions in preparation, as well. I raided the dollar stores a while ago and picked up a lot of things that come in pouches or packets and just cook in a pan with water. Soups, noodle dishes, sides, etc. They all keep forever (almost) without refrigeration and pack small. I also picked up ingredients for that trail staple, GORP. Good Old Raisins and Peanuts, although I use far more ingredients than that. By the time I was done, I mixed the ingredients in the biggest bowl I could find and it took two batches. I filled about 10 quart zip-lock bags with it. I added chex cereal, dried fruit of several varieties, M&Ms, Cashews, Craisins, and some crackers that I found that are like Ritz Bits, without the filling. I turned out really good and I think I still have 8 bags! Mmmm…
Anyway, I have enough food for several trips, but it will keep. Things that keep short-term I'll buy just before I leave or along the way. Fresh food, veggies, and whatever you eat immediately, you pick up in the small towns as you go through. There will probably be many time when I eat at a cafe or restaurant as we sight-see, so often you only need to account for breakfast and one meal each day.
I leave next week, on the 15th and probably won't be home until the following Monday. I'll try to run the Greenalp app on my phone to track where I am, so use the link to Where Am I Now? to see the map. I can't guarantee it will work there, I'm sure there will be gaps in coverage (It's the GAP trail after all!) but there should be some locations shown.